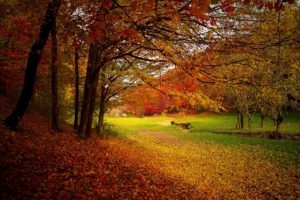 When we think about fall excursions, our minds almost always linger toward a quaint town in the northeast. Wrapped in the oranges and reds of too-ripe tree leaves, we can smell the fireplaces and almost taste the pumpkin pie. There's just something about this area of the country that perfectly embodies the season and sheer Americana of it all. While we realize that summer is only about half-way through, it's not a bad time to start planning your weekend getaway to a New England location. That's because there's a lot of variety to be found in Maine, Vermont, New Hampshire, Massachusetts, Connecticut and/or Rhode Island. While you likely can't expect to hit all six states in a single trip, travel advisor Dr. Benjamin Ruby is here to offer some suggestions when it comes to finding the best sights, sounds and smells during your travels.
– Plymouth Rock: Nowhere is New England's atmosphere of early America stronger than at Plymouth Rock. This marker where the first pilgrims set foot in North America is located in Plymouth, Massachusetts. The rock, inscribed with "1620" is part of a state park today and naturally is part of Thanksgiving celebrations in the region.
– Essex Steam Train: This attraction will truly transport you back in time – to 1892 to be exact. The 12-mile trip that departs from Essex, Connecticut will take you past farms, a waterfall, a millpond, meadows and over bridges. According to travel advisor Dr. Benjamin Ruby, the variety of sights also offers a great view of the region's fall foliage.
– Vermont driving tour: Wide swaths of Vermont are covered by forests and in a region of the U.S. where trees turning colors is big business, that means visitors are in for a treat. Some travel experts say that a driving tour through Vermont is best scheduled for late September or early October. Along the way, you'll pass by many of the picture-esq towns and shops that draw so many to the northeast this time of year.